Story submitted to the Wevolver Community by Vladislav Lunachev – inventor, maker, and co-founder of a makerspace in Perm city, Russia
BeamCNC was originally developed for making a construction system called Grid Beam, but also can perform custom tasks via gcode files. BeamCNC is the easiest way to produce Grid Beam – an eco-friendly modular construction system that you can use to build a lot of things. BeamCNC can make Grid Beam of different sizes, parts can be reused and projects are highly customisable.
When I discovered Grid Beam I instantly wanted to use it in our makerspace. It is a lot cheaper than an aluminum 80/20 system and comparably versatile. You can build a lot of "makerspace" parts with it. Workbenches, shelves, painting booths, 3d printing stations, tools cart, you name it. And because everything has the same patterns, things are compatible to one another and can easily be customised for the task at hand, providing the freedom so urgently needed in creative spaces.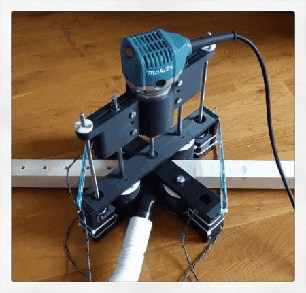 The idea seemed interesting so I bought lumber, made a steel template and used a drill press to make the first batch. But the task that looked really simple turned out a bit harder than I thought.
Lumber that you can buy in a local hardware store is not totally straight and often has some curves. So when I put the straight template on curved lumber this didn't match and had to constantly re-adjust the template to drill a hole in the center of the beam. If you misaligned holes – parts won't fit together.
So as you can imagine it was quite a labor intensive process to make a Grid Beam with a template and a drill press. And the same issues appeared with the CNC router. Straight tools – curved lumber.
So I decided to develop BeamCNC that can work with materials you can buy in your local hardware store to make a functional Grid Beam. I really think that this construction system can be useful in a lot of cases. I believe BeamCNC can help Grid Beam to become a common thing, so I made BeamCNC open source.
We see how digital fabrication tools affects the production of the goods. We can spot a pattern. Broadly available materials + Broadly available tools + Open source designs + Web service for finding local manufacturers.

For example:
Plywood + CNC router + Open sourсe designs + Web-service to find the local manufacturer (like Open Desk) = awesome plywood furniture and projects produced locally.
3d printing filament + 3d printer + Thingiverse + 3D Hubs  = all kinds of 3d printed projects nearby.
BeamCNC could create another of those distributed systems.
Square lumber/tubes of different sizes + BeamCNC + Open source designs + Web-service for finding local manufacturers = all kinds of Grid Beam constructions and projects for makers and local communities.
Discover more about BeamCNC and Vlad on his Indiegogo page here.
*This post is part of our Hardware Developers Highlights, where we showcase interesting hardware development companies and their projects. If you'd like to be published in our HDH series please send an email to cameron@wevolver.com